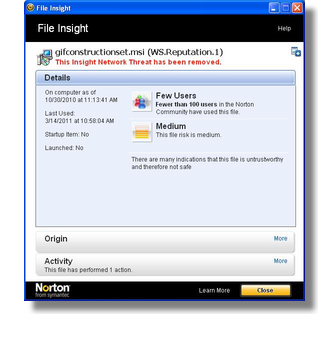 System security – keeping your computer adequately defended against viruses, malware and other barbarians at the gate – is a complex and oftentimes bedeviling problem. Too little security will find you part of a botnet, or providing your credit card information to every hacker in Afghanistan. Too much security will make your computer excessively paranoid, to the point of your not getting anything useful done with it.
You can render your system wholly impervious to infection by software viruses by the simple expedient of switching it off and leaving it that way – but this is hardly a workable resolution to the issue for most of us.
If you use Norton Antivirus to defend your computer against the machinations of cybercretins, you may have encountered a particularly intractable issue upon installing new software or updates, such as the ones made available for our products. Norton might alert you to a threat it refers to as WS.Reputation.1 when you download the installers in question… and then delete or quarantine your downloads.
Continue reading 'The Norton / Symantec WS.Reputation.1 False Positive' »